Bend Oregon is a great place to plan a golf vacation, located in the heart of a Central Oregon players' paradise which has been rated among the top 50 golf destinations in the world.
Boasting an average of 300 days of sunshine per year, low humidity and cool evenings, this High Desert mountain community – often dubbed "the Palm Springs of the North" – is the perfect near year-round playground for golf enthusiasts of all budgets and skill levels.
From well-known local favorites to luxury/award-winning courses, almost 30 tracks – many showcasing stunning volcanic vistas – are designed to whet the appetite of every palate, with Bend alone home to three venues ranked among Golf Digest magazine's list of "America's 100 Greatest Public Courses."
A Golf Vacation in Bend, Oregon
Golfing in and around Bend, Oregonis a top outdoor activity offered in abundance in Central Oregon. The sunny weather and predominately dry climate of the Great Basin High Desert Plateau offers the potential for year-round golfing, with a plethora of residents' best-loved choices and award-winning options across the city and beyond. This makes Bend an ideal base for a golfing destination vacation, as illustrated by the following top reasons to plan a visit to this former timber town-turned tee time haven for your next golf trip.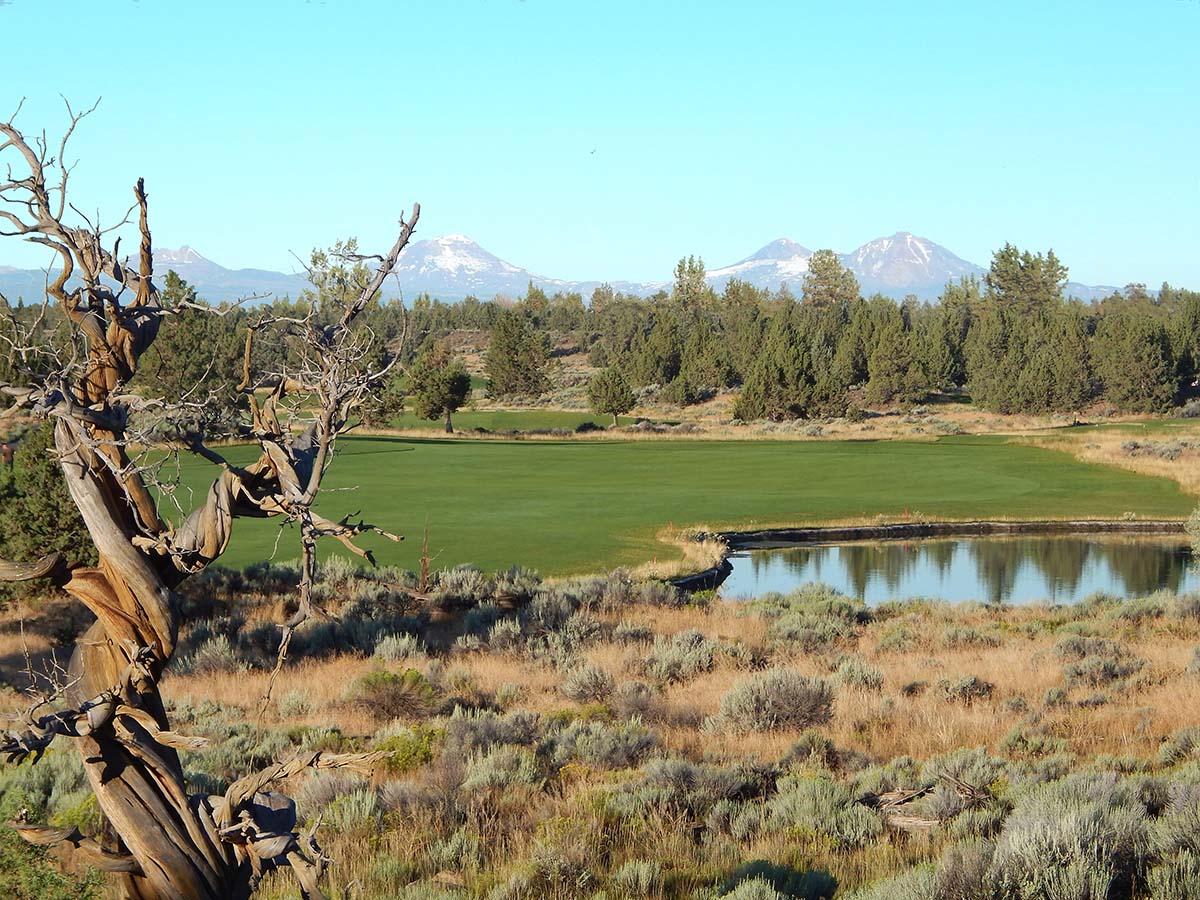 Year-Round Golfing
With its relatively high altitude and renowned clear air, moderate days and cool nights characterize Bend's year-round climate. Bend is known for having the highest average number of sunny days in the state of Oregon and the area's typical weather pattern provides low humidity, making it the optimal outdoor playground, especially for those who love golf. The average rainfall never goes higher than about an inch a month, and the upside of being shielded by Cascade Mountain range means Bend enjoys a largely dry climate and plenty of sunshine – a perfect recipe for golf! There's no question, golfing in Bend is a top choice in Oregon and the nation.
Local Favorites to Award Winning Courses
While the state of Oregon is known as a top destination for golfers, it's hard to beat anywhere outside of Bend for plentiful golfing opportunities amid the sunlit High Desert climate. It has evolved from its timber roots to become Central Oregon's biggest City and a boom town for golf, whether you are looking for the well-known River's Edge municipal course with its 18 challenging holes and spectacular scenery seeing it recognized as a Golf Digest "Best Places to Play", a quick 9-hole game or the full golf club experience, Bend offers both local public and award-winning courses.
Pronghorn's signature golf course was designed by the legendary Jack Nicklaus and provides a pure golf experience in a stunning Central Oregon location, complete with dramatic lava formations, ancient junipers and deep canyons.
Tetherow Resort offers a luxury links-style golf course designed by award-winning architect David McLay Kidd. Recently named a Top 10 course by Golf Digest, the Scottish heathland-style 18-hole championship course features magnificent mountain views and a distinctive layout by the creator of Bandon Dunes on the Oregon coast and Castle Course in Scotland.
Just south of Bend is Sunriver Resort, which offers 63 holes of golf for all skill levels. You may want to check out Crosswater, another Golf Digest Top 100 course which was once a stop on the Senior PGA tour and has the sparkling Little Deschutes River meandering through forested meadows.
Black Butte Ranch is a uniquely scenic destination that draws visitors to the sunny side of the Cascade Mountains. Abundant amenities include Glaze Meadow Golf Course which provides a memorable championship golf course experience as it cuts through towering pines while offering epic views of the nearby mountains.
Central Oregon's top public golf courses are just as revered as the private spots. In the old-West styled town of Sisters, the family-run, modern-designed course where the locals like to play is Aspen Lakes Golf Course which combines stunning views of the Three Sisters peaks with unique red lava sand traps. Or head south to Quail Run Golf Course in the High Desert sagebrush of La Pine, which has some of the lowest greens fees but plays like an expensive private club.
Eagle Crest Resort has four designs, including the scenic Ridge Course and the more challenging Resort Course. Another tough test in Bend is Widgi Creek Golf Club, with a layout crafted by distinguished golf course architect Robert Muir Graves (who also designed River's Edge).
Enjoy the panorama of the Cascades from the tees and greens of the Peter Jacobsen/Jim Hardy design Brasada Ranch, while the oldest course in the Bend area is Bend Golf & Country Club which was designed by William Hanley/Chandler Egan and opened in 1925.
Lost Tracks on Bend's south end boasts 7,000 yards of breathtaking views, Juniper Golf Course is a public course located in Redmond, just a short drive north of Bend, which twice hosted the Oregon Open, while nearby Crooked River Ranch and Prineville's Meadow Lakes are just a few other options in a Central Oregon golfing landscape that has something for everyone.
Central Lodging at Waypoint Hotel
The Waypoint Hotel is a unique newly renovated venue located just off Highway 97 in Bend's popular Mid-Town area. This hotel includes a spacious lobby featuring eight local brews and ciders on tap, outdoor fire pits, and an on-site food truck serving comfort food. Just around the corner from the Waypoint Hotel you'll find several brewpubs and a distillery. A convenient grab-and-go breakfast is complimentary with each night's stay, especially welcome when you are headed out early to hit the links. Book your golf vacation lodging today!