Bend, Oregon has deservedly earned the moniker "BeerTown U.S.A." after garnering widespread acclaim for its impressive craft beer scene which, combined with countless opportunities for outdoor adventure, makes this Central Oregon pub paradise the perfect choice for a unique beer lover's getaway.
While Bend's status as an outdoor sports destination is well known on the West Coast, its reputation as a beer haven also increasingly draws crowds from across the country to sample the delights of a craft beer hotbed boasting over 22 breweries – the highest amount of microbreweries per capita in Oregon.
New breweries continue to emerge with surprising regularity, focused on current brewing trends, inventive pub fare and quality atmosphere – including fire pits, outdoor patios and retractable garage doors – joining veteran operators like the revered Deschutes Brewery, started in Bend in 1988, which is now one of the top ten largest craft breweries in the US.
Each of these microbreweries, many within easy reach of the conveniently Midtown-located Waypoint Hotel, offer award-winning craft beer and a unique experience to savor for the savvy traveler.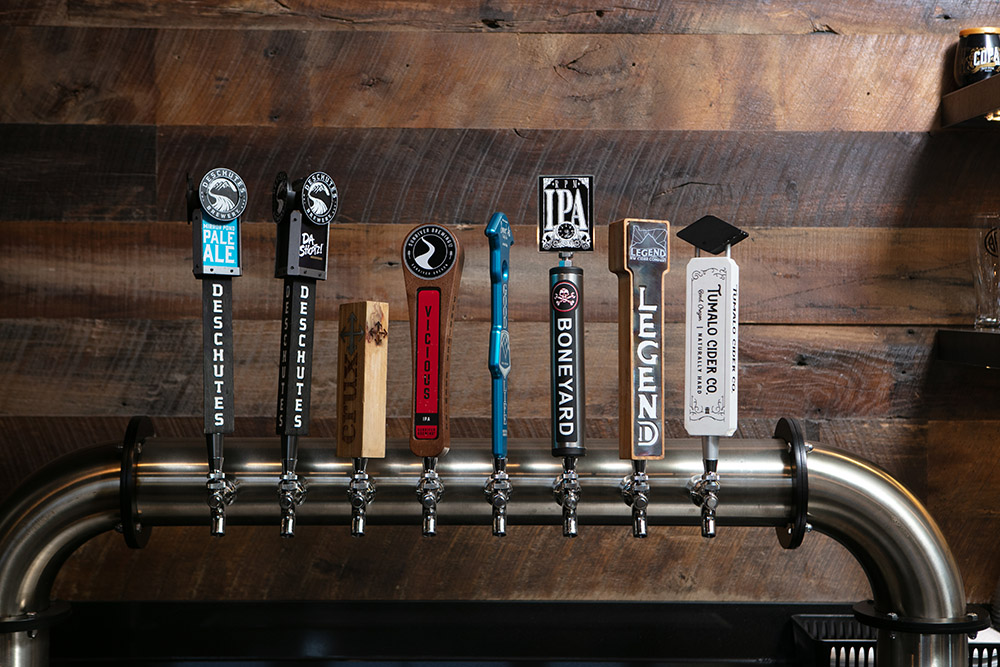 Top Breweries in Bend, Oregon
Not much can beat a cold refreshing beer after a long day of getting outside in the Cascade mountain landscape. This makes Bend, Oregon the perfect vacation destination in the sunny High Desert. The city is well-known far outside of Central Oregon for its award-winning craft beer and multiple, diverse breweries. Here is a list of our top five must-try breweries in Bend on your next vacation.
Cascade Lakes Brewing Company
Cascade Lakes Brewing Company is an innovative brewing and eatery group that has been making craft ales and lagers using all North West ingredients in Central Oregon since 1994. A brewpub located on Bend's popular west side is the perfect first place to stop on the way back from Mt. Bachelor and offers high-end local fare that is kept seasonally fresh, centered around freshly crafted beer, with an atmosphere that combines the rustic outdoors with a fashionable and welcoming environment. Cascade Lakes brews six beers year-round, including Blonde Bombshell and Hopsmack IPA, in addition to several seasonals throughout the year.
Bend Brewing Company
Proud to be a part of Bend's well-known heritage as a hub for hand-crafted beers, Bend Brewing Co. was established in 1995 and is the second oldest brewpub in Bend. It has a rich history of award-winning craft beer brewed at its landmark downtown location flanking the Deschutes River.
The brew pub's comfortable interior, airy patio, friendly service, and exceptional beers make the "BBC", as it is known locally, an excellent craft brewery with everything from ultra-hoppy IPAs to robust stouts in their rotating tap selection. The scenic beer garden offers great views of the river and an ideal spot to soak in the sun while sipping an ale. A prime patio overlooks Mirror Pond and this local favorite with a laid-back vibe has plenty of room for the whole family.
Worthy Brewing Company
With the slogan "You are Worthy!", Worthy Brewing is an eco-friendly solar-powered brewery in Bend, Oregon. Founded in 2012 by Roger Worthington, it brews a full portfolio of craft beers and operates a bustling brewpub located on the eastside of Bend with plenty of indoor and outdoor space to get a full taste of the Cascade mountains view.
The onsite restaurant specializes in wood-fired pizzas and sizeable sandwiches. A novel feature is the three-story "Hopservatory", with a spiral staircase winding around the outside to the top, where during evening viewing hours you can stargaze from the 17-foot rotating dome and 16-inch reflecting telescope.
Crux Fermentation Project
Crux Brewery is a brewer-owned brewpub located just outside of downtown Bend and the Old Mill District. This brewery also has a great outdoor space with food carts and games galore. Crux has a tasting room situated smack in the middle of the brewery production, which is housed in a former AAMCO transmission plant.
An industrial and lively environment offers over 20 craft beers on tap and expansive views of the Cascade Mountains, most breathtaking during sunset. Relax in the cozy interior or out on the patio by the fire pits. The beer garden – one of Bend's best – is dog-friendly, kid-friendly, and a great place to people watch amid a fun, relaxed vibe.
Deschutes Brewery
A tour of Bend's craft brewing scene wouldn't be complete without a stop at Deschutes Brewery which operates the city's original brewpub, the Bond Street Public House – a vibrant fixture of the downtown scene since the company's founding in 1988. Still owned by employees and family, it maintains a belief that "good beer brings people together" and prides itself on high-quality beer which now can be found in over 30 states nationwide.
The brewpub, where the very first beers such as Black Butte Porter and Jubelale were brewed, boasts a total of 19 taps and the same quality and hand-crafted excellence goes into the pub's cuisine, with a beer-centric menu featuring locally sourced fresh ingredients. A tasting room is located at the production facility, outside of the Old Mill District, which offers free tours, pints, sampling, curbside pickup, packaged beer to go, and merchandise sales.
Additional Honorable Mentions
While the above breweries are undoubtedly a great start, there are many more brewpubs in Bend with amazing craft beer and unique atmospheres to try out. Other noteworthy microbreweries definitely worth checking out in Bend include Boneyard, family-owned Sunriver Brewing Co., GoodLife Brewing, Monkless Brewing and 10 Barrel Brewing Company. No matter what brewery you visit in Bend, you won't be disappointed.
Book your Bend vacation lodging at Waypoint Hotel today!