There is nothing quite like the mix of raw power and beauty conjured up by waterfalls, and there is something truly magical about seeing such cascading flows in Central Oregon as they carve through spectacular scenery.
Each waterfall is unique, in its own way, with a singular signature of soundscape, splendor and natural pools soothing the senses and charming locals and visitors alike.
Exploring the many waterfalls near Bend is often rated one of the top outdoor things to do and see in the area – and what makes these jaw-dropping landmarks even more stunning is a great hike in the High Desert before reaching your waterfall destination.
Adventurers of all ages and fitness levels can enjoy a range of wild and scenic waterfalls within easy reach of Bend. Here are some of the best waterfall hikes to check out around Bend.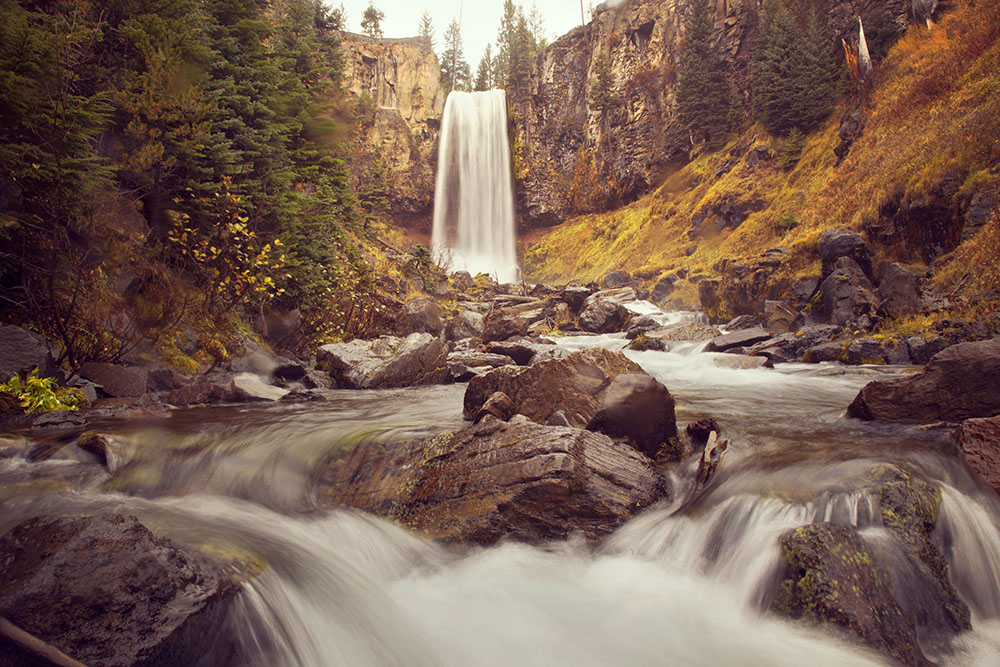 Tumalo Falls Hike
In close proximity to Bend, the most popular waterfall is the iconic Tumalo Falls a stunning 97-foot chute on Tumalo Creek in the Deschutes National Forest. You can start the hike at the Tumalo Falls Day Use Areas, and an easy family-friendly one-mile trail will take you to the viewpoint of one of the most photographed spots in Central Oregon where the towering falls crash into a small pool below.
For a more challenging trip you can continue hiking upstream, where you will encounter several smaller waterfalls. The 6.5-mile Tumalo Falls Loop starting off at the Skyliners trailhead parking lot is well maintained and extends through a beautiful forest offering views of both the mountains and the river.
Permits are $5 for a day pass, available on site, if you don't have an annual Northwest Forest Pass. Dogs are only allowed on the first part of the loop. There are also areas for picnicking.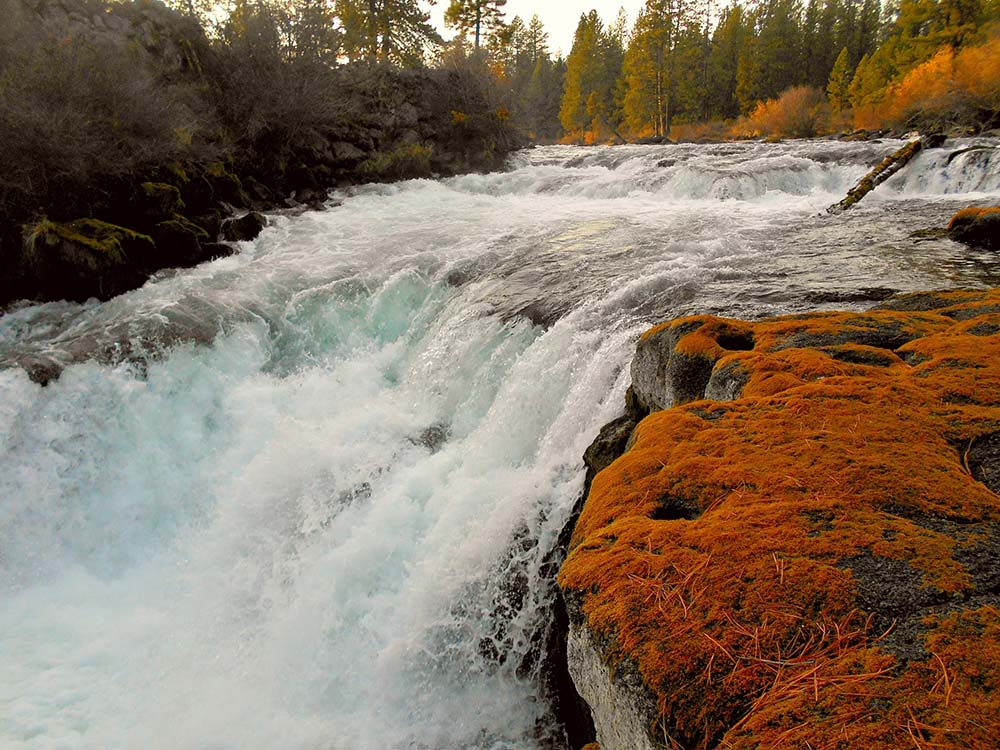 Benham, Dillon and Lava Island Falls
Early 19th century French fur traders dubbed the primary Central Oregon waterway the 'Riviere des Chutes', which is literally translated as 'River of the Falls', and the later named Deschutes River lives up to that moniker, boasting multiple waterfalls just outside Bend all relatively close to each other. Once you leave town, hit the Benham Falls Trail for a quick family-friendly 1.5 mile out and back trail. Just a bit further and you are at Dillon Falls and Lava Island Falls, both great summer locations for picnicking along the river and viewing the falls.
Accessible from the Cascade Lakes Highway between Bend and Sunriver, these glorious stretches of sister falls formed by the eruptions of Mt. Newberry thousands of years ago can be viewed from the Deschutes River Trail. Taking in the trio out and back is an easy/moderate 6.8-mile trail. Permits are $5 for a day pass not available on site but can be purchased from Forest Service offices or vendors. Dogs are allowed on-leash.
Chush Falls and Upper Chush Falls
Head west out of Bend to the Chush Falls Trail for a moderately difficult out and back trek which enters the Three Sisters Wilderness. Beautiful Chush Falls on the Whychus Creek is a local favorite in Central Oregon, splaying out in a triangular profile as it tumbles nearly 70 feet down multiple terraces. Also in the area, Upper Chush Falls via Whychus Creek Falls Trail is a longer out and back hike. Upper Cush Falls via Wychus Creek Falls Trail near Sisters, Oregon is a 5.8-mile out-and-back trail. Dogs are welcome but must be on a leash.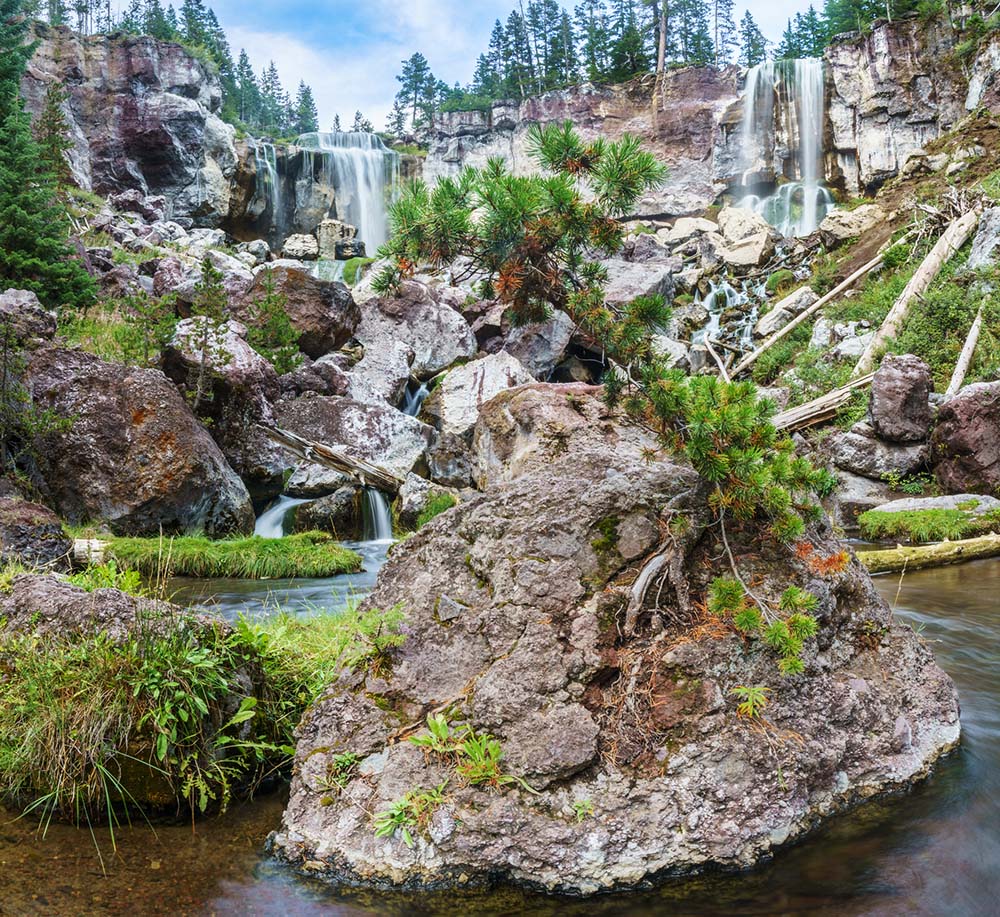 Paulina Creek Falls via Peter Skene Ogden Trail
Paulina Creek Falls trail is a 5.4-mile moderate out and back hike located south of Bend. Unlike other hikes in the area, this waterfall hike is accessible year-round and is a perfect Central Oregon outdoor activity. To really get a feel for the area and a much longer hike, the full Peter Skene Ogden Trail is over 20 miles primarily used for hiking, camping, and backpacking. Paulina Falls is 80-feet tall and surrounded by dramatic volcanic cliffs created from sheets of hot ash and pumice formed during eruptions more than 75,000 years ago. It is part of national volcanic monument Newberry Crater. Permits are $5 for a day pass, not available on site, if you don't have an annual Northwest Forest Pass. Dogs are allowed on-leash.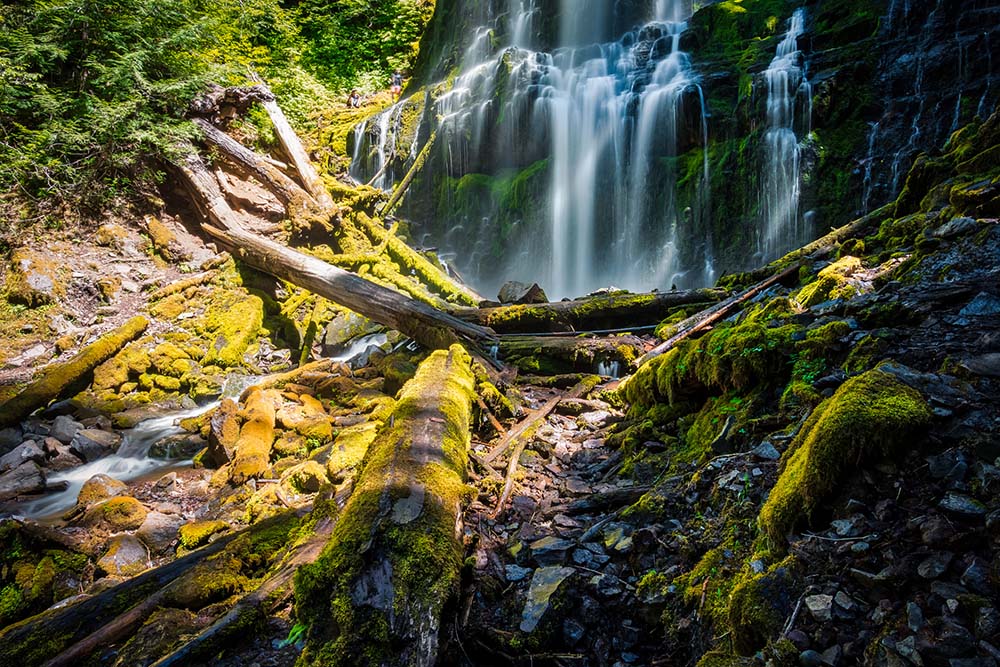 Proxy Falls Trail
A beautiful, relatively easy hike off McKenzie Scenic Byway 242 – which is only open for a few months out of the year (usually mid-June to early November, depending on snowfall) – west of Bend, the Proxy Falls Trail is located in the Three Sisters Wilderness. This family-friendly quick loop waterfall hike that winds through open lava fields and dense forest is only about 1.5 miles long and features a gorgeous waterfall from a collection of springs from the North Sister in the Cascades Range. This is one of the more unique waterfalls in the area and another must see. The cascade's famous main drop, descending 226 feet, is known as a hanging-valley waterfall, formed when glaciers cut through the rock about 6,000 years ago, leaving the tributary springs higher than the rest of the valley. The pool below Proxy Falls completely drains and appears to disappear into porous lava. Permits are $5 a day without a valid recreation pass; dogs are allowed on-leash.
Plan Your Trip to Bend, Oregon
With some truly spectacular waterfalls right in the heart of Central Oregon, Bend is an outdoor paradise. Come plan your trip around a waterfall hike, enjoy the city, the views, and making memories. Book your Bend vacation with ease and conveniently located vacation lodging today!