Go Mountain Biking in Bend
With more than 500 miles of trails weaving through the Central Oregon region, Bend is at the heart of a pulse-pounding mountain biking paradise – making it the ideal spot to plan your next cycle-centric vacation.
Thanks to a variety of elevations and geographic diversity, mountain biking enthusiasts can find year-round opportunities for single track satisfaction, with a diverse range of options appealing to all skill levels, from beginner to intermediate and advanced, all within easy reach of Bend.
Bend is known worldwide for cycling as a key element of its healthy outdoor culture and "the outdoor playpen of the West" has won widespread acclaim for its pedaling pedigree, including recently being named "Best Mountain Bike Town in the U.S." by Mountain Bike Action Magazine.
A vast network of surrounding trails – with creative names like Funner, Tiddly Winks, Whoops!, Flagline, Stormking, The Lair, and Slalom Track – seem to expand every day; many meticulously maintained and designed by dedicated volunteer non-profit group Central Oregon Trail Alliance (COTA).
Whether you hop in the saddle for easy riding, cross country, fast-track downhill descents, or dirt-jumping, mountain biking in the often-sunny High Desert is an exhilarating way to experience the area's stunning landscapes.
Cycling around Bend, Oregon makes for a memorable experience, while the seemingly endless trails are also ably supported by a broad array of top-class bike shops.
Oh, and did we mention nearby Mt. Bachelor has a seasonal lift-served bike park to boot?!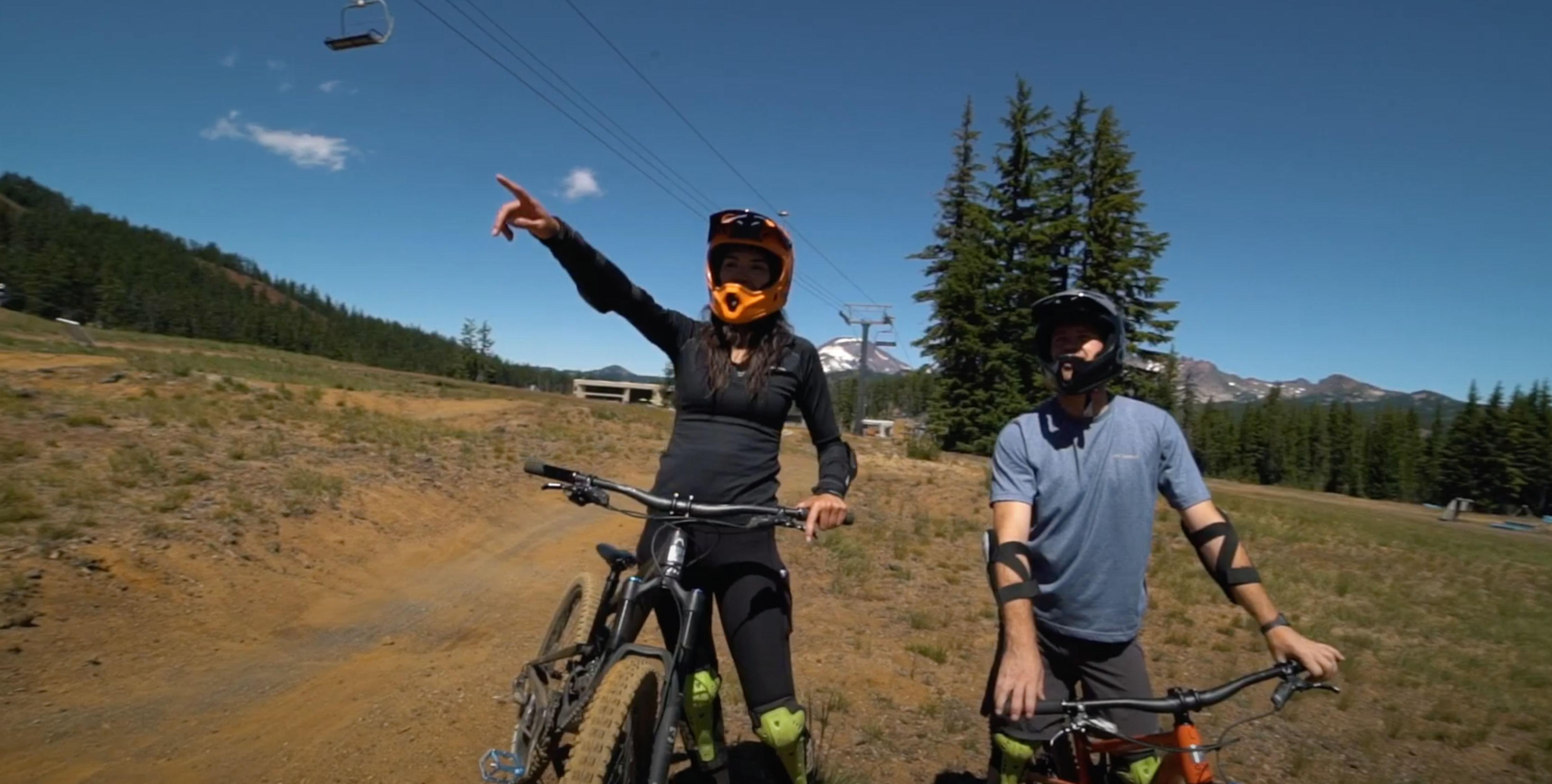 Mountain Biking in Bend, Oregon
Bend, Oregon is truly a mountain biking wonderland. The Central Oregon city straddling the High Desert is well-known for its breathtaking scenery and many trail networks for all skill levels, whether you are a seasoned well-traveled shredder, beginner or simply looking for family bonding fun. Here is a guide to everything you need to know about planning to mountain bike in and near Bend on your next vacation.
Best Mountain Biking Near Bend
There are myriad mountain biking combinations to choose from in Bend, winding through the prolific local mountain and forest areas.
Phil's Trail
Starting with the original classic: Phil's Trail System, which put Central Oregon firmly on the mountain biking map. Bend's most popular trail system just minutes from downtown, offers "variety in paradise" and is loaded with single-track trails as well as connecting to many other offshoots in the area. There are beginner-friendly loops, while for the more adventurous rider, the 60-mile complex is filled with plenty of big berms, jumps, and tabletops, including technical rocky sections and serpentine flats.
Wanaoga Sno Park Biking Trails
For winter fun, Wanoga Sno Park along the Cascade Lakes Scenic Byway is one of many areas offering groomed loops just for fat bikes while come summer, the park transforms into one of the best mountain biking trail networks in the Bend area.
Smith Rock
Some 20 miles outside of Bend, the rock-climbing mecca of Smith Rock offers particularly scenic rides showcasing one of the outstanding wonders of Central Oregon. Horse Butte Just East of town is a popular go-to ride for locals as expansive views of the area dominate a trail that runs through sagebrush and lava rocks.
Peterson Ridge
Peterson Ridge just outside the nearby town of Sisters is around a 20-mile loop that makes for a cross country rider's dream, passing through dense Oregon woodlands with openings showcasing breathtaking Cascades peaks views.
Tumalo Creek Trail & Shevlin Park Loop
More mellow options include Tumalo Creek Trail which is relatively flat, easy, and stunningly beautiful, and Shevlin Park Loop Trail, a 4.6-mile loop single track that has some hills ideally suited to a beginner.
Newberry Crater
For an extra thrill, take an expansive, challenging loop around the largest volcano in the Cascades in the shape of the enormous caldera of Oregon geographic marvel Newberry Crater, boasting panoramic vistas.
Cascade Lakes
Beautiful views of the pristine Cascades Lakes abound in loops including Sparks Lake/Lava Lakes Trail, while areas such as Lemish and Charlton Lakes offer some equally great, more remote, backcountry riding.
Mt. Bachelor
A jewel in the Central Oregon crown has to be the Mt. Bachelor Bike Park which offers beginner runs all the way to advanced double black diamond trails. The iconic ski resort has a summer season of chairlift-accessed mountain biking, while the park also hosts a tune-up and repair shop, a bike-washing station, and private and group lessons for new riders.
Be sure to check trail conditions before heading out on your mountain biking adventure. Bend Trails and COTA websites are great resources for trail information and maps. Note, some trails require a recreation pass.
Bend Mountain Bike Shops, Shuttles, and Tours
A bike shuttle and tour is a great way to explore the Central Oregon and Bend area via mountain bike. Local tour companies like Cog Wild provide daily guided mountain bike rides and shuttles to the popular mountain biking trailheads around Bend. Lessons are also available to improve skills. And there are multiple local bike shops in Bend like Hutch's Bicycles, Sunnyside Sports, Crow's Feet, Pine Mountain Sports, The Hub Cyclery, and Project Bike, to get you outfitted for your next trail adventure.
Plan Your Bend Mountain Biking Adventure Today
With expansive trail systems, stunning local scenery and so many mountain bike trail systems to choose from in Bend, you won't be disappointed hitting the local trails. Add on local mountain biking tour guides, shuttles, and a wide range of specialist shops, where rentals are readily available, and Bend is definitely world-class in the spokes-sphere. If you plan a trip to Bend, a stay at the remodeled and convenient Midtown-located Waypoint Hotel, complete with fire pits and a welcoming array of microbrews, offers easy access to ideal mountain biking and other activities and the opportunity to meet all your needs for your next visit. Book your Bend vacation lodging today!